Ryan Cohan Quartet at Jazz Showcase FEB 23 – 26!
Thursday, February 23, 2017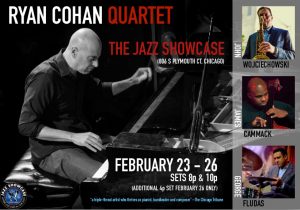 This Thursday thru Sunday (Feb 23-26), I will be performing at the historic Jazz Showcase in Chicago with my quartet featuring John Wojciechowski on woodwinds, James Cammack on bass and George Fludas on drums. I am really psyched to play four consecutive nights with these brilliant musicians and very happy to have James – a 30-year veteran of the Ahmad Jamal Trio and collaborator of mine from early in my career – returning to the group for these dates. I hope you can join us!